March for Accessibility:
First page
>

In English
> Tell your friends to support us
Tell your friends to support us
You probably know people who would like to sign our petition. Write your name and e-mail address and their e-mail addresses in the input boxes below, and a pre-written message will be sent to them in your name. You can also send the message to your contacts with your e-mail application.
Tell your friends by using e-mail
Click on the link below to open up your e-mail program. A pre-written message will appear. Use the address book in your e-mail program to select your recipients.
Skaffa marschtröjan!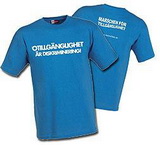 2012-06-13 - nytt erbjudande:
Hjälp oss att tömma tröjlagret! Du får nu fem tröjor för priset av fyra, inklusive frakt! (80 kr styck.)
Till sidan för att beställa tröjor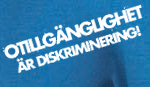 Denna webbplats administreras med IYL-publisher ©2003-2015
Bennani Consulting
.
Om hemsidan